Penthouses
Appartements


Penthouse
Living Space
Terrace
Room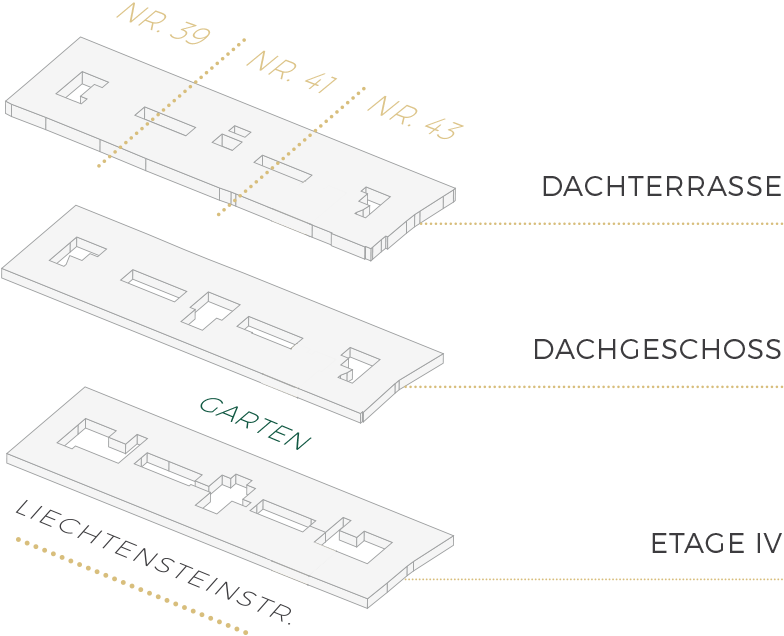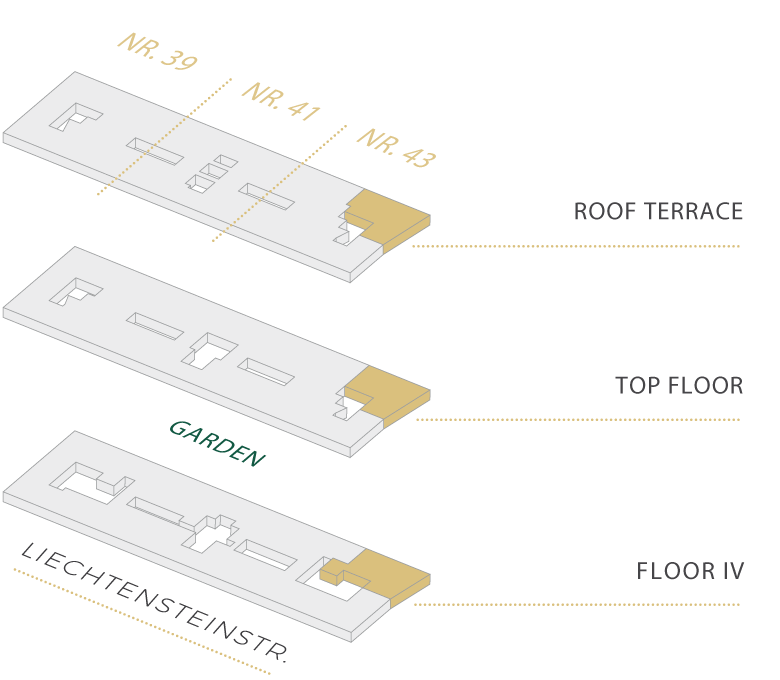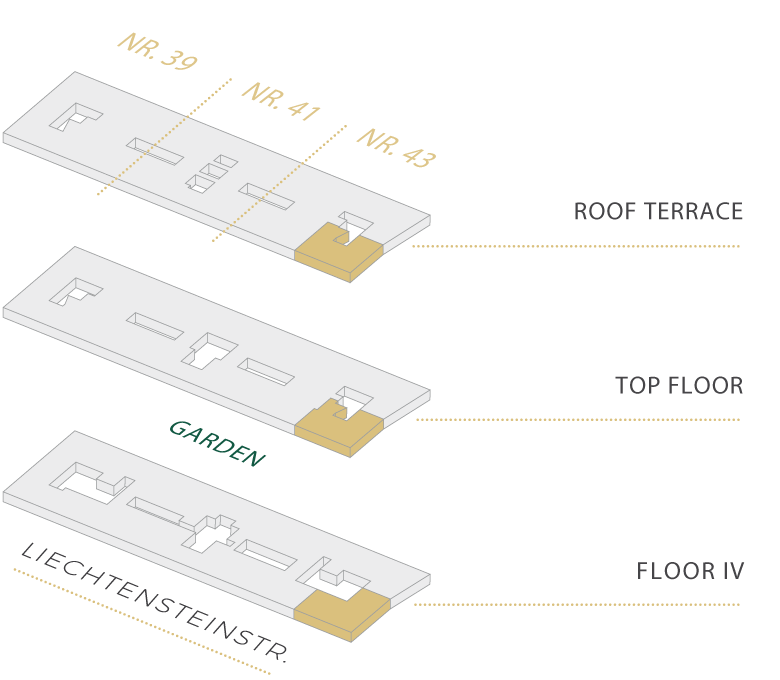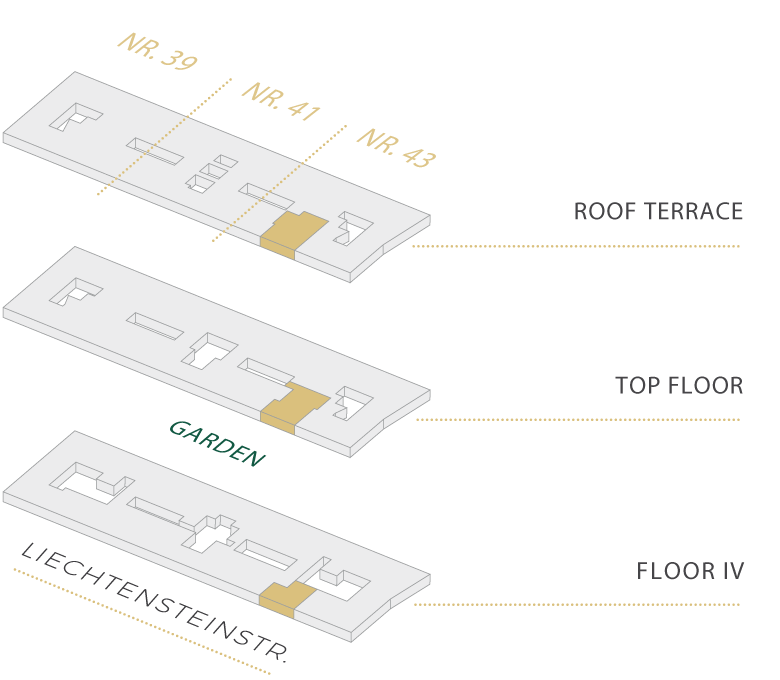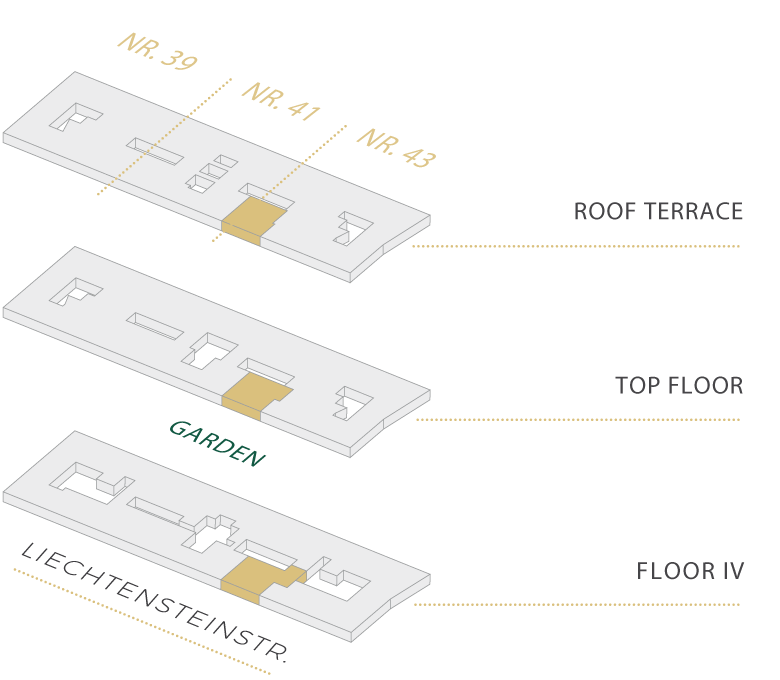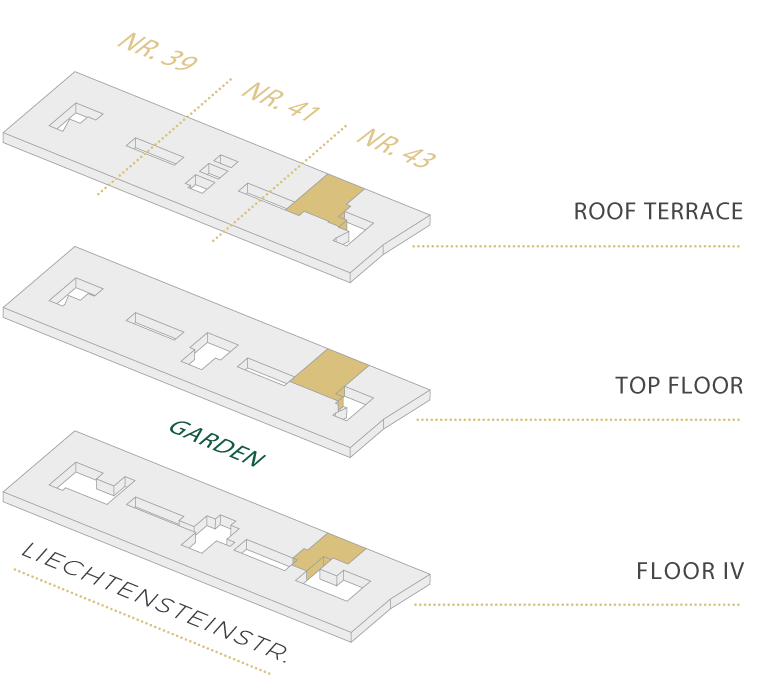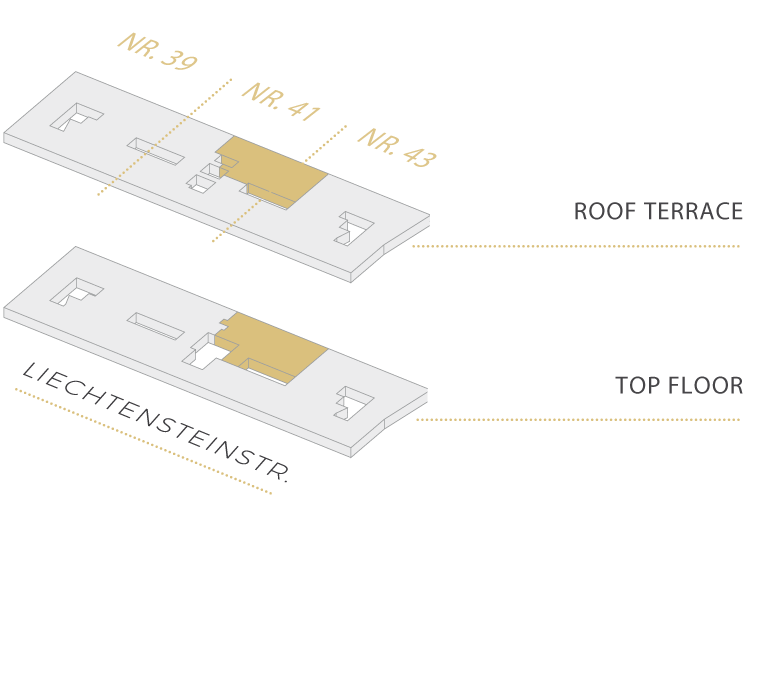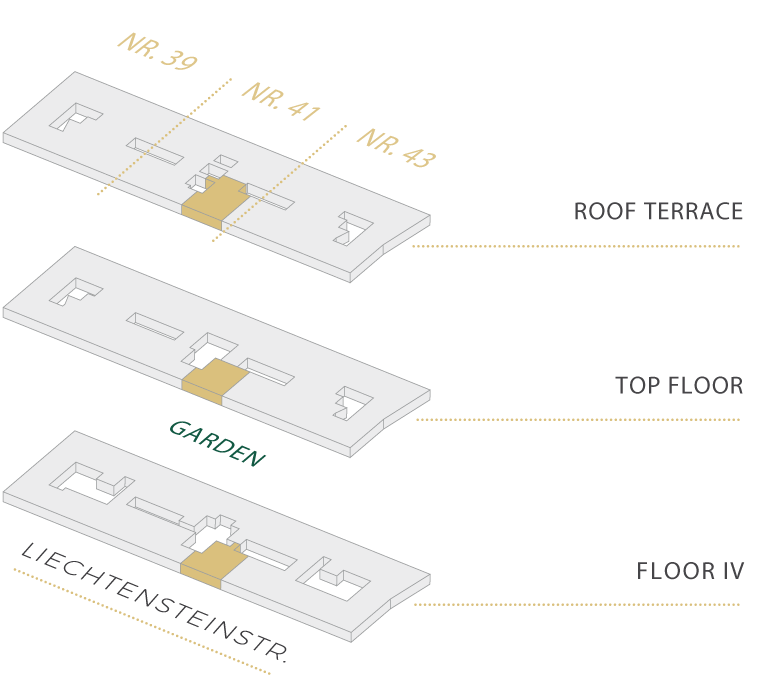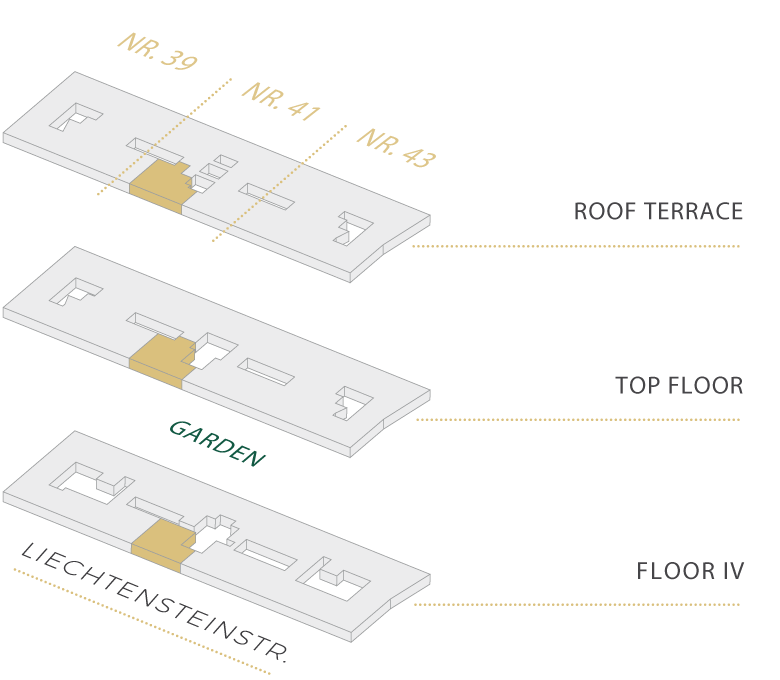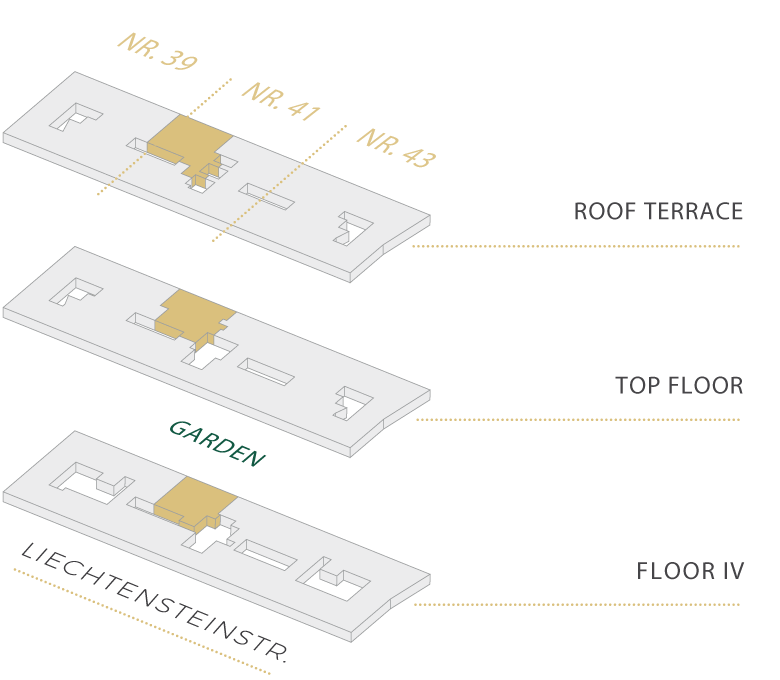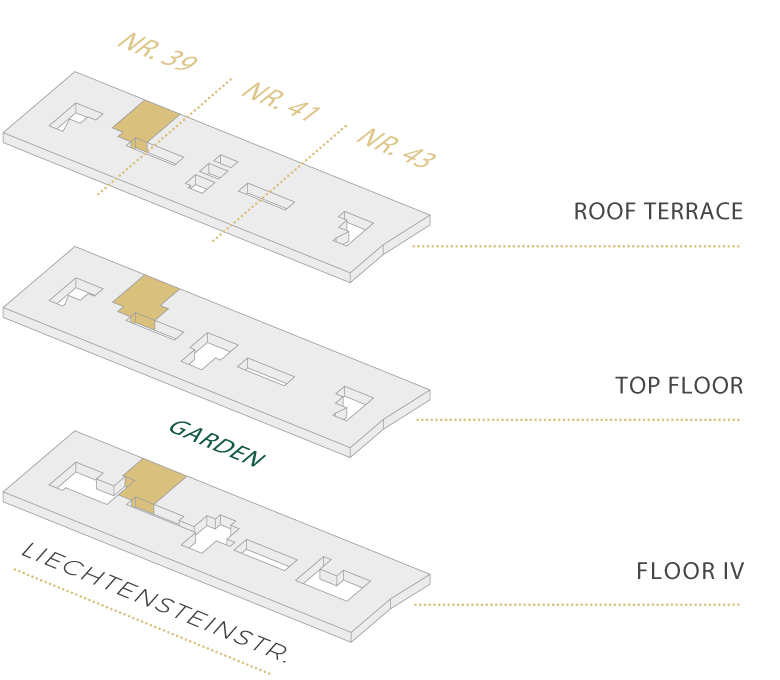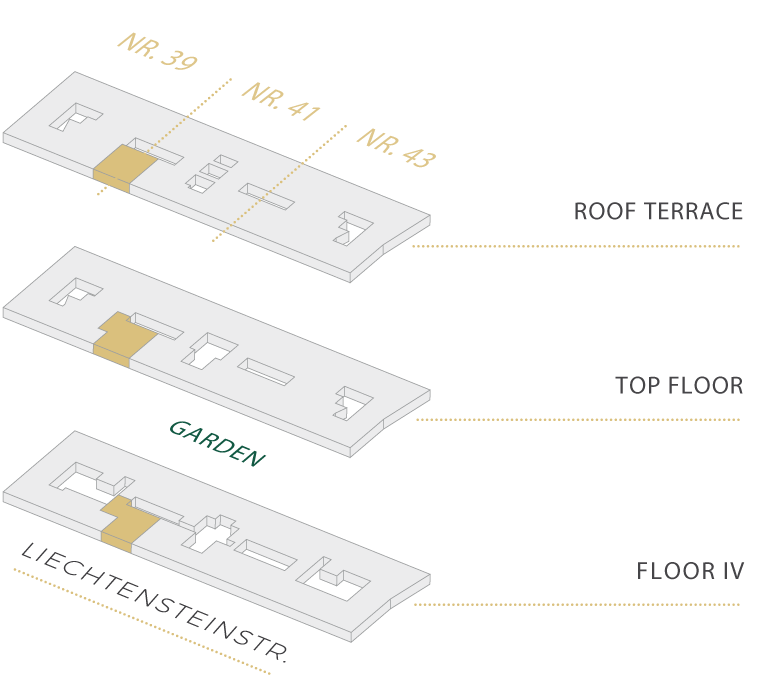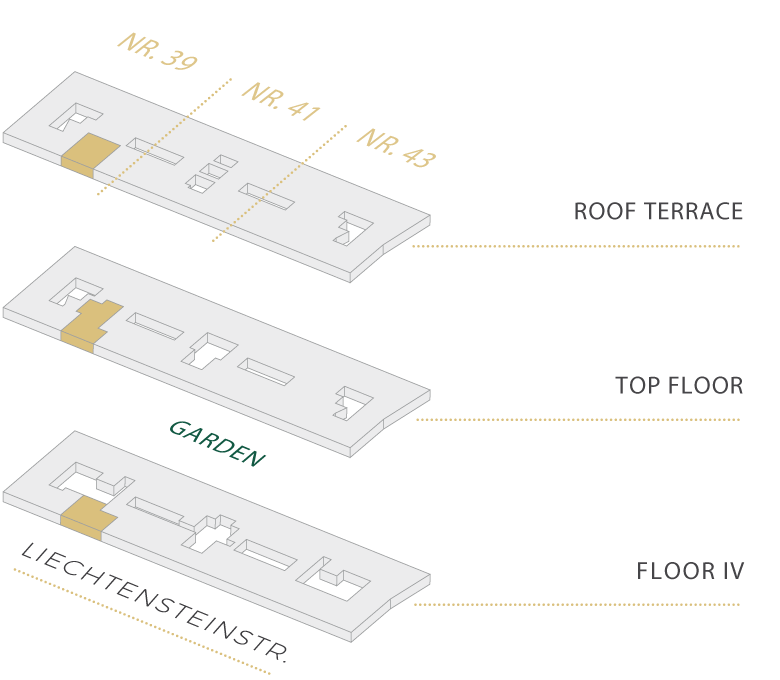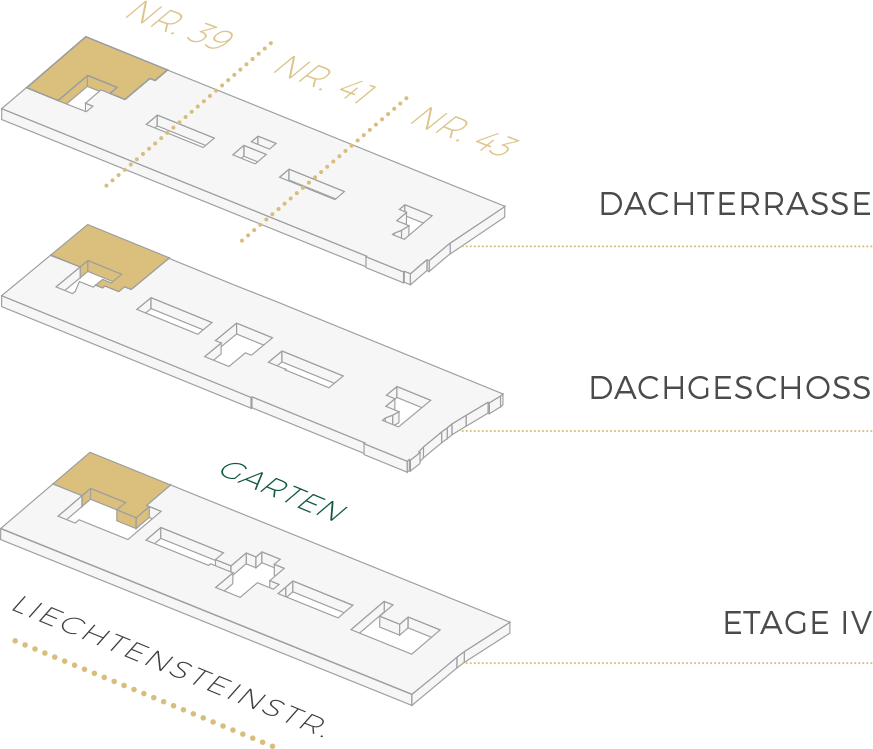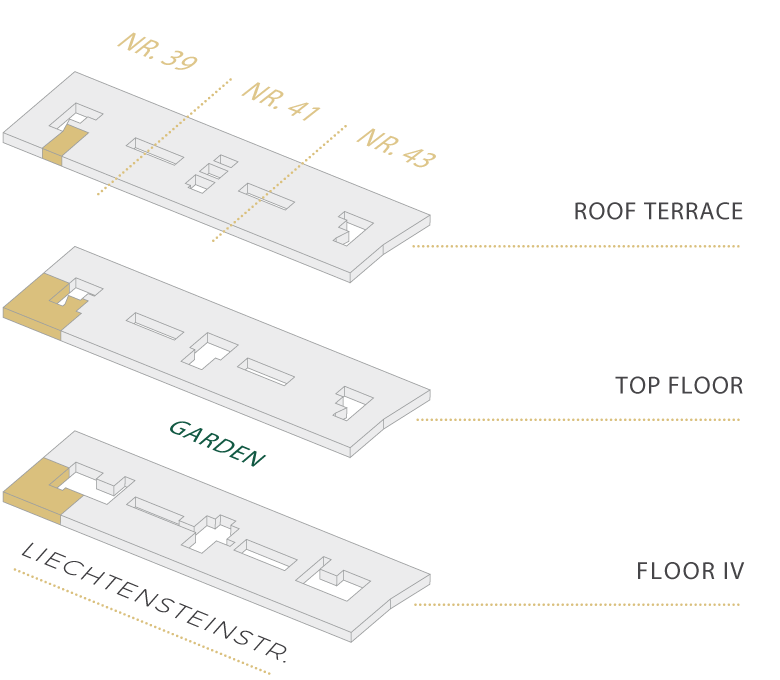 ---
Roof terrace
EN Above it all and yet firmly rooted in the magic of the moment, far away from the hustle and bustle of daily life and yet in the middle of the action – the roof terraces are designed to meet the most sophisticated tastes. Just as with the internal rooms, the materials used here result in a look characterised by outstanding quality and superior design. Generous proportions allow space for the spirit to soar and the mind to wander. The view is magnificent and the peace is irresistible. Lazy days in the sun, a summer cocktail party, a barbecue with friends and family, marvelling at the sunset – there is unending freedom here.
---
Top floor
EN Cooking in the elegant stone-floored kitchen, having a relaxed cup of tea or a convivial meal with family and friends – the light floods in through the large windows and illuminates whatever you do. On warm days you can relax for hours on the inviting terrace in front of the living and dining area. Here you can experience Mediterranean style high above the rooftops of the town. The breathtaking panoramic views across the whole of Vienna are unforgettable and will become a design feature that you'll never want to do without again. Careful architectural planning means the magnificent views will remain unobstructed.
---
Floor IV
EN Space to unwind, for quiet moments or tranquil hours – living, sleeping and dining areas are all generously proportioned with high ceilings. Superb materials and the finest flooring combine with glorious views through the sweeping windows to provide an outstanding sense of space. With their handsome washbasins and fittings, exclusive wall coverings and free-standing bathtubs, the bathrooms are a place of retreat and relaxation. Here too the eye is drawn to the expansive glass walls that become opaque at the push of a button to preserve intimacy and protect your personal space.
---
Terrasse sur le toit
FRÀ la fois détachées des choses et profondément enracinées dans la magie de l'instant présent, très éloignées de l'agitation quotidienne et cependant présentes au cœur de l'événement – les terrasses sur le toit se présentent comme un espace de créativité pour objectifs ambitieux. Tout comme dans les pièces intérieures, le choix des matériaux utilisés confère ici au visuel une qualité et un design exclusifs. Les vastes espaces disponibles permettent à l'esprit de se donner libre cours dans de délicieux vagabondages. La vue est fantastique, le calme tout simplement fabuleux. Agréables heures passées au soleil, cocktail estival, soirée de grillades en compagnie des gens qu'on aime, magnifiques couchers de soleil – les possibilités offertes sont ici infinies.
---
Combles
FRÉquipée d'un sol en pierre de qualité exclusive, l'élégante cuisine est dotée d'immenses fenêtres qui laissent la lumière du jour entrer à flots dans la pièce et illuminer le moindre moment de la journée – préparation des repas, pause thé, repas pris en famille ou avec des amis. Située devant la salle à manger, la terrasse invite par temps chaud à savourer d'agréables plages de détente. C'est une véritable ambiance méditerranéenne qui s'installe au-dessus des toits de la ville. Le stupéfiant panorama qui s'offre aux yeux permet d'embrasser du regard l'ensemble de la ville de Vienne, qui devient à elle seule un élément de décor d'une valeur tout simplement inestimable. Et dont la pérennité est assurée grâce à une planification architecturale qui garantit dans le futur l'inviolabilité de cette vue de rêve.
---
IVème étage
FREspaces de détente réservés au calme et aux plages de repos – les pièces à vivre et les chambres à coucher, les salles à manger et les salles de séjours impressionnent par leur hauteur. La riche qualité des matériaux et des sols autant que le somptueux panorama qui s'offre au regard à travers les immenses fenêtres accentuent encore la sensation d'exclusivité. Équipées de lavabos exclusifs et de robinetteries luxueuses, les salles de bain, avec leurs extraordinaires revêtements muraux et leurs baignoires en milieu de pièce, sont ici des lieux de retrait et de relaxation privilégiés ; des lieux dotés de grandes parois en verre d'où l'on peut, au choix et sur simple pression de touche, admirer la vue sur la ville ou restituer à la pièce son caractère privé et intime.